---
WHY STAY AT NYANZA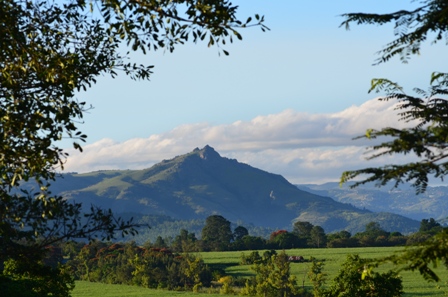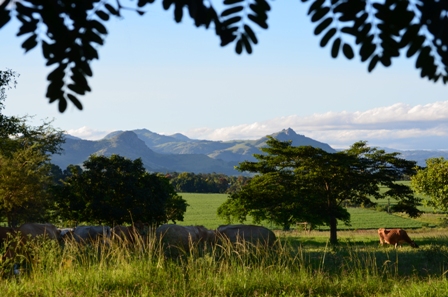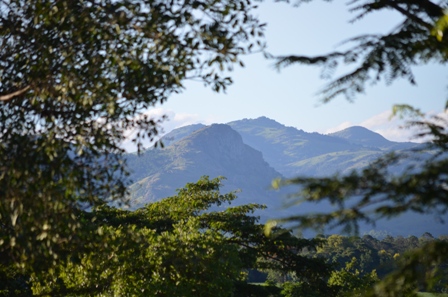 Our priority here at Nyanza is to provide you with a relaxing and enjoyable holiday. We are not a large commercial operation; our intention is to ensure privacy and peacefulness for our guests. There are no rows of busy chalets but instead there are just our two idyllic cottages and the family lodge to choose from. The cottages are spacious, airy and comfortable. You have the opportunity to be yourself, to wake up in the morning and just potter around the garden or the farm without any worries, eat when you please and come and go as you like.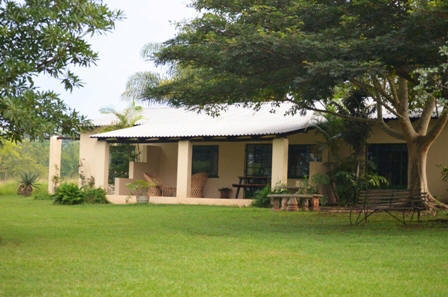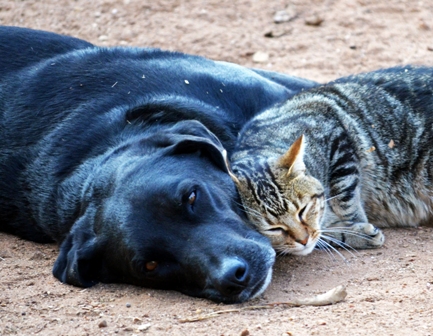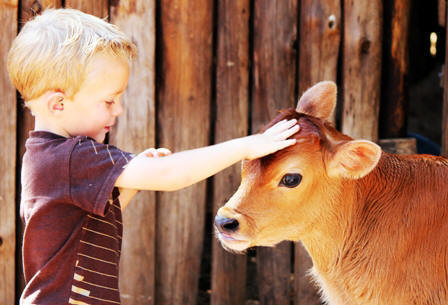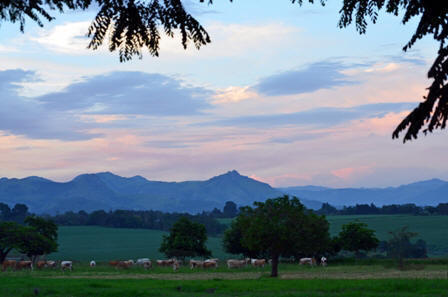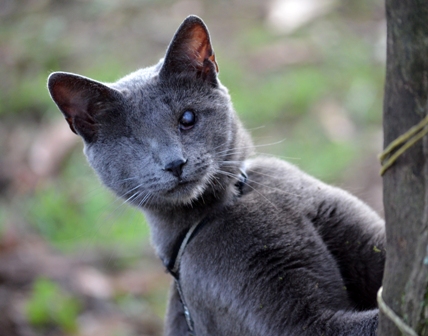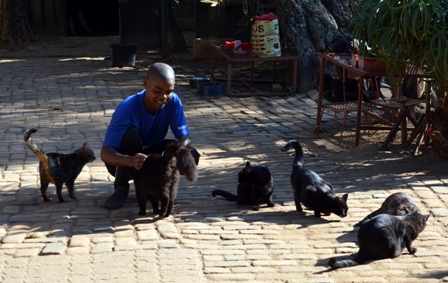 There is no need to keep the children close at hand as if you were staying in a busy tourist operation. Grassy open farmlands offer space for kids to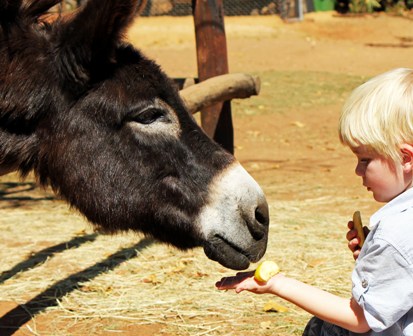 roam while the large gardens are an ideal place for them to run freely and enjoy ball games to their heartís delight.
There are the dairy and farmyard activities, pony rides and horse trails or riding lessons and lots of animals to talk to and enjoy.
We have the riding stables where you can improve your skills in the school or ride out every day on horse trails. Our horses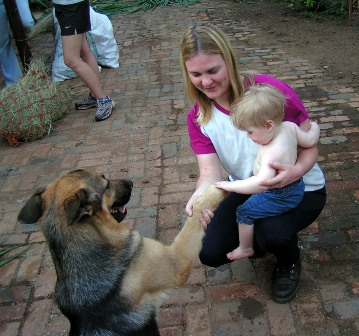 are well-schooled and you will have the opportunity to savour the beautiful countryside. Let our knowledgeable and competent guides share their love of horses and this wonderful country with you. Pony rides are available for the little ones where they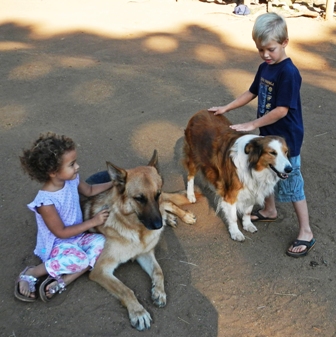 are led on a short trip round the farm to give them their first taste of the magic of horses.
Nyanza is a haven for animal lovers of all ages and families with children are especially welcome to come and experience the joy of being around our animals.
Our farm is perfect for family holidays. The whole family has the opportunity to enjoy the environment that accompanies everything we do here. Many families spend their entire holiday here on the farm, just enjoying the atmosphere. We have many families now who come back regularly to the farm to visit us and all their favourites.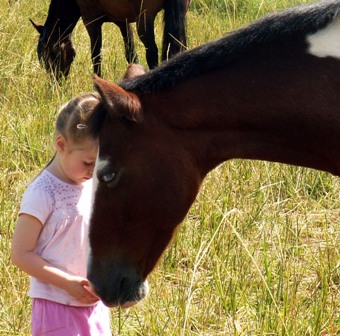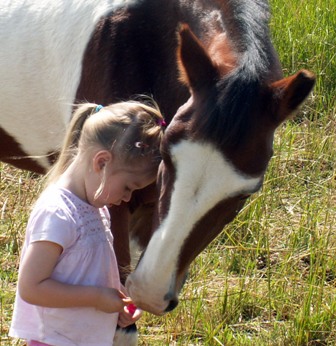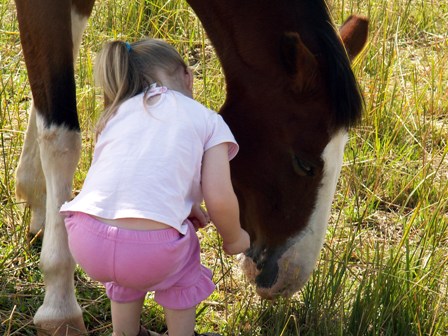 For those who live where their children do not have the opportunity to grow up around them, or for some reason have fears, it is the perfect chance to let them learn to be comfortable and relax with our friendly and easygoing dogs, cats and other animals.
As well as the horses, dogs and cats we have a delightful variety of other farm animals. There are the Jersey cows and calves, a donkey, goats, a sheep, rabbits, chickens, geese, guinea fowl, ducks, turkeys and peacocks. The cows come in to the dairy twice a day to be milked, a treat for those city dwellers who have never seen where their milk actually comes from!
All the animals are friendly; you may have the cows stop at the coffee table on their way to the paddock. Watch Winta, our Australian Cattle Dog, round up the turkeys and remind them how lucky they are to live at Nyanza over Christmas, even if they occasionally get harassed by an over-diligent ACD.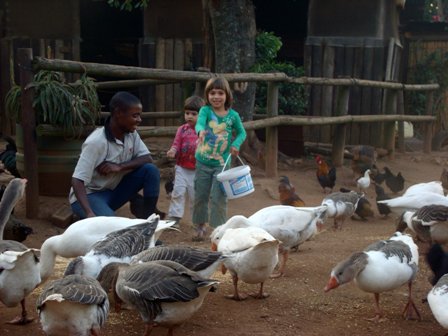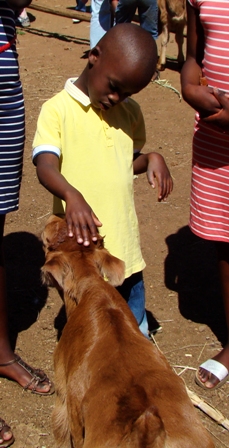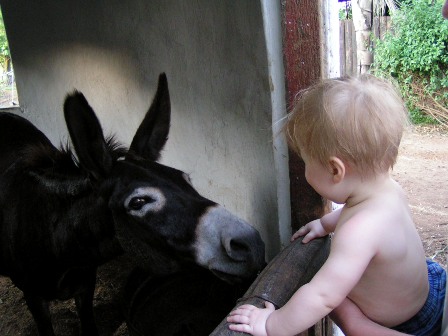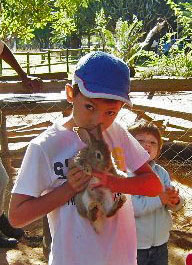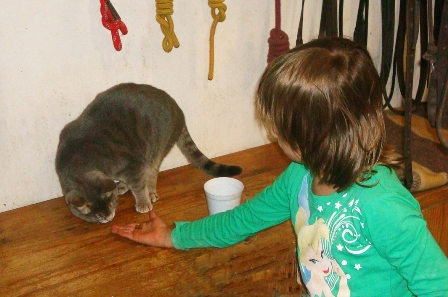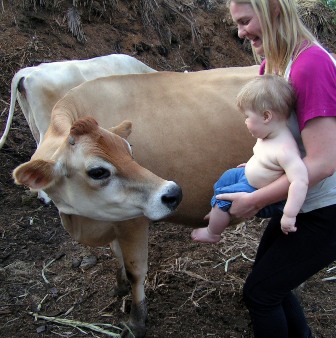 Sometimes there is a wonderful opportunity for the children to have a nature study lesson watching a cow calve and seeing the magic of the first few shaky steps of a new born calf, or help it learn to drink. As well as that that they can watch the milking, learn how to groom a horse or donkey, watch the horses being shod and help feed the poultry in the evening amongst other exciting farm activities.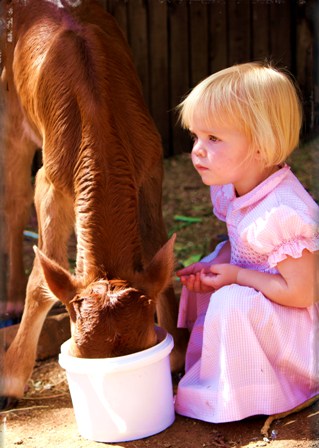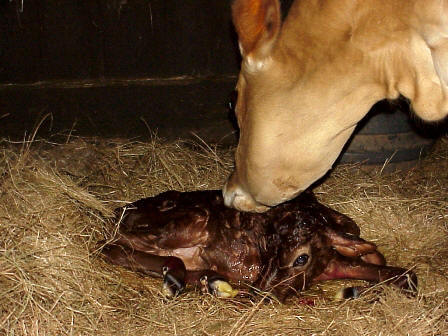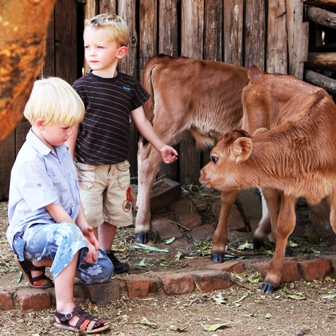 There are often different types of fruit or nuts to pick when they are in season; we have a litchi orchard and mango, citrus and avocado trees as well as pecan and macadamia nuts.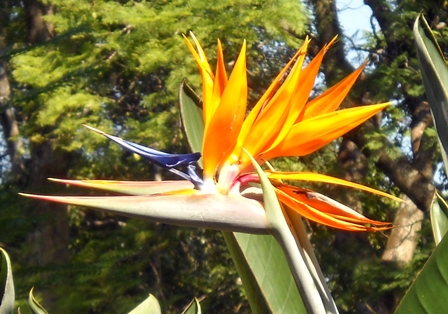 There is even a Strelitzia plantation with their beautiful and unusual flowers.
Some visitors end up not leaving the farm to visit the other local attractions because they are so happily occupied here!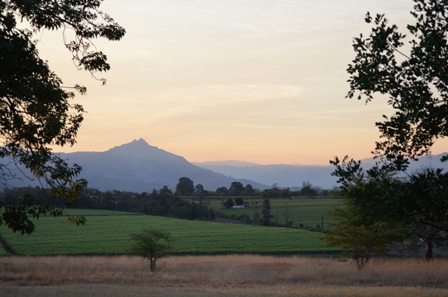 For couples looking for a romantic getaway the cottages are just far enough away from all the action that you can choose it to be a secluded hideaway all of your own, surrounded by trees, birds and overlooking the tranquil grazing lands.
For keen bird watchers our farm has prolific birdlife. There are nature reserves and a wide variety of habitats for bird watching within easy reach of the farm, including wetland, lowveld, mountainous, grassland and much more. You could visit a different one each day.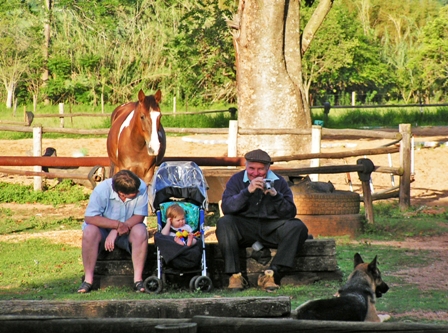 Friends looking for a place for a get-together find us central and easily accessible for those coming in from South Africa, Botswana and Mozambique or even as far afield as Europe. We have many visitors based in Southern Africa who meet their overseas friends and family here for a Swaziland reunion.
Europeans are most welcome - Italian is spoken here and we have hosted folk from all over the world. Some of our overseas visitors are now regulars and find us their Swaziland home from home!
We are ideally situated between the renowned Kruger National Park, Kwa Zulu Natal and Mozambique, as well as the more local tourist attractions. Many of our overseas guests spend a night here between their other destinations. A night is never enough though; be aware that there are so many things here and around us to see and do you should perhaps consider giving yourself more time to enjoy everything that Swaziland has to offer.
As well as the farm's own attractions we are fortunate to have many craft and curio shops, game reserves, adventure sports and other attractions within easy reach.... please see our Around and About page for more details.
If we have whetted your appetite sufficiently, please read on through our website. We have lots to share with you...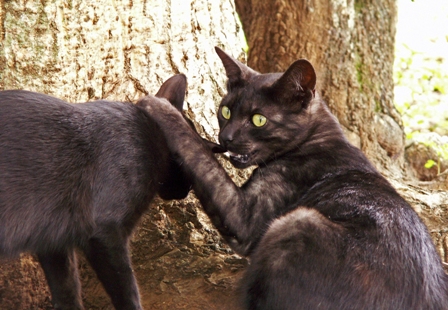 ---
Welcome to Nyanza Farm.htm / Why Stay at Nyanza.htm / Nyanza Guest Cottages.htm / Nyanza Family Lodge.htm / Around Nyanza Places to visit and things to do.htm / Nyanza and Swaziland General information.htm / Our farmyard animals and visiting children.htm / Our Dogs and Cats.htm / Latest Additions.htm / Nyanza Ethos and a few of our past rescue cases.htm / Nyanza and the Community.htm / Nyanza Jersey Dairy.htm / Our Riding School.htm / Meet our Horses.htm / Nyanza Horse Trails.htm / Nyanza and Equestrian Competitions.htm / Our Stable Management and Liveries.htm / Contact Us.htm
---